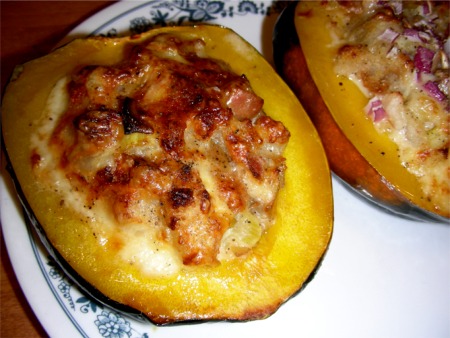 GOURMET BAKED ACORN SQUASH
1 halved acorn squash, seeded (I used pepper squash)
2/3 diced celery stalks
2 diced, unpeeled apples
(2 slices of diced red onion for the onion lovers like my wife, see in the background)
1/4 cup margarine (I used butter)
1 1/2 cup soft bread crumbs (I cubed 2 pc light rye bread)
1 cup grated cheese
1/2 tsp. salt (I used sea salt)
1/8 tsp. pepper (I used fresh ground Intellicherry pepper corns)
dash of brown sugar

Place squash halves, cut side down, in baking pan in small amount of water. Bake
at 400 degrees for 20 to 30 minutes or until almost tender. Sauté celery and
apples in butter in skillet for 5 minutes. Stir in crumbs, cheese, salt and
pepper. Turn squash halves; sprinkle with brown sugar, fill with apple mixture.
Bake 10 to 15 minutes longer or until squash halves are tender.
My wife said this is the best thing I've ever cooked! I disagree BUT there wasn't any leftovers!